Profile and Specialty...
Profile:
Graduated from Zunyi Medical School, (previous Dalian Medical University of China). She is M.D.in China, and has been practicing Western medicine and Traditional Chinese Medicine (TCM) throughout China, the UK and Canada for the last over 30 years. She is a Registered Acupuncturist and a member of Canadian-Sino Medical Association (CSMA) in British Columbia. She is also a member of American Pregnancy Association in US. Now, she practices acupuncture in Vancouver,B.C.
According to ancient Chinese theory, acupuncture seeks to balance the body and mind through gentle activation of the energy channels in the body. Recent science shows that by stimulating the body with needles you activate the body's own healing mechanisms and calm the nervous system. This leads to relief of pain, improved mood, local blood circulation and better immunity.
Specialty:
Jenny Zhang specializes in women's health issues. She had the idea to be a women's health specialist when she was a university student. She realized that Acupuncture/Chinese Medicine had better treatment results than Western Medicine for some gynaecological diseases during her practising in China. Later, she decided to focus on the treatment of infertility for both males and females. Her successful clinical experience shows that Acupuncture/Chinese Medicine is much more effective than Western Medicine in the treatment of fertility problems and the prevention of miscarriages. She has good experience in treating unexplained infertility. Over 10 years in Vancouver, she has helped many women to give birth to healthy babies. Her success stories prove that she has a talent for treating infertility. Your confidence in your own success is surely strengthened in knowing that Jenny Zhang has a high rate of success in treating infertility and unexplained infertility.
Philosophy:
Within her practice, treating the whole person and also addressing all aspects of the clients' lives such as diet, lifestyle, spirituality, and emotional well-being; making clients feel their special journey more peaceful, joyful and unforgettable.
Why choose us...
Friendly knowledgeable professionals-explain your problems in both Eastern and Western views; give you suggestion for fertility solutions; set-up personal plan to achieve the goal.
Honest, reliable, and empathy-you are told what we can help; how we help; or other options. You will understand what and why we do for you at each visit.
Reassessment after each cycle-Based on your BBT chart after treatments, we will explain any improvement of those three phases to you, and what we will do next step.
Follow up your case closely-No matter what your goal is(natural pregnancy or IVF support), we try to provide efficient care to achieve your target.
Lower costs and more efficient-frequency of acupuncture treatment is approximately once a week or less depending on the period cycle (26-32 days on average). Four treatments are provided in different phases of the cycle by BBT chart or hormone level monitored.
Provide treatment whenever you need-no matter when your transferring schedule (for IVF clients), we open our office for you without extra charge(Service fees).
Quiet, clean, and restful treatment environment-you feel comfortable while treatment provided.
Easy Payments-by credit and debit card, cheque or cash.
(more updated information click

here
)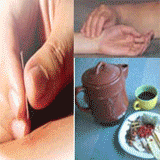 112-3195 Granville St. Vancouver, BC. Tel: 604-733-3358